A great aged domain can provide a huge boost to your website's SEO. Still, to enjoy that benefit, you first need to know where to find aged domains, how to separate the good domains from the bad ones, and understand how to buy quality aged domains at reasonable prices.
There are several ways to find aged domains and many places to buy them. Some of these involve lots of time and effort but with the potential reward of grabbing a bargain, while others are less risky and time-consuming but come at a premium price.
In this guide, we'll help you to find the method of browsing and purchasing aged domains that best suits your needs.
---
2 Ways To Find Aged Domains
There are two main approaches you can use to find aged domains.
The first method is to use websites and tools to filter and browse through thousands of expired domains until you find a domain that is of interest to you and that meets the criteria to qualify as an aged domain.
The second approach is to browse dedicated aged domain marketplaces, which consist of curated lists of vetted aged domains. The domains on offer in these marketplaces are recently expired domains selected by the marketplace owners and purchased to re-sell for a profit.
Which of these methods you use to find aged domains, or whether you use a combination of both, depends on your available time, budget and priorities. Below, we explain the pros and cons of each method and introduce you to some of the most popular websites and tools available today.
---
Best Expired Domain Listing Services
The advantage of this approach is that you have the largest inventory to choose from and could uncover a bargain. However, the process is like looking for a needle in a haystack. It will take a lot of time, and there's no guarantee of success.
If you decide that searching through expired domains is for you, then you will need to browse listings on websites like GoDaddy Auctions or use a domain searching tool such as ExpiredDomains.net, Spamzilla.io, or DomCop.com.
GoDaddy Auctions
GoDaddy Auctions allows you to search, filter, and sort an enormous list of live auctions using criteria such as price, time remaining in the auction, domain length, keywords that appear in the domain, and more.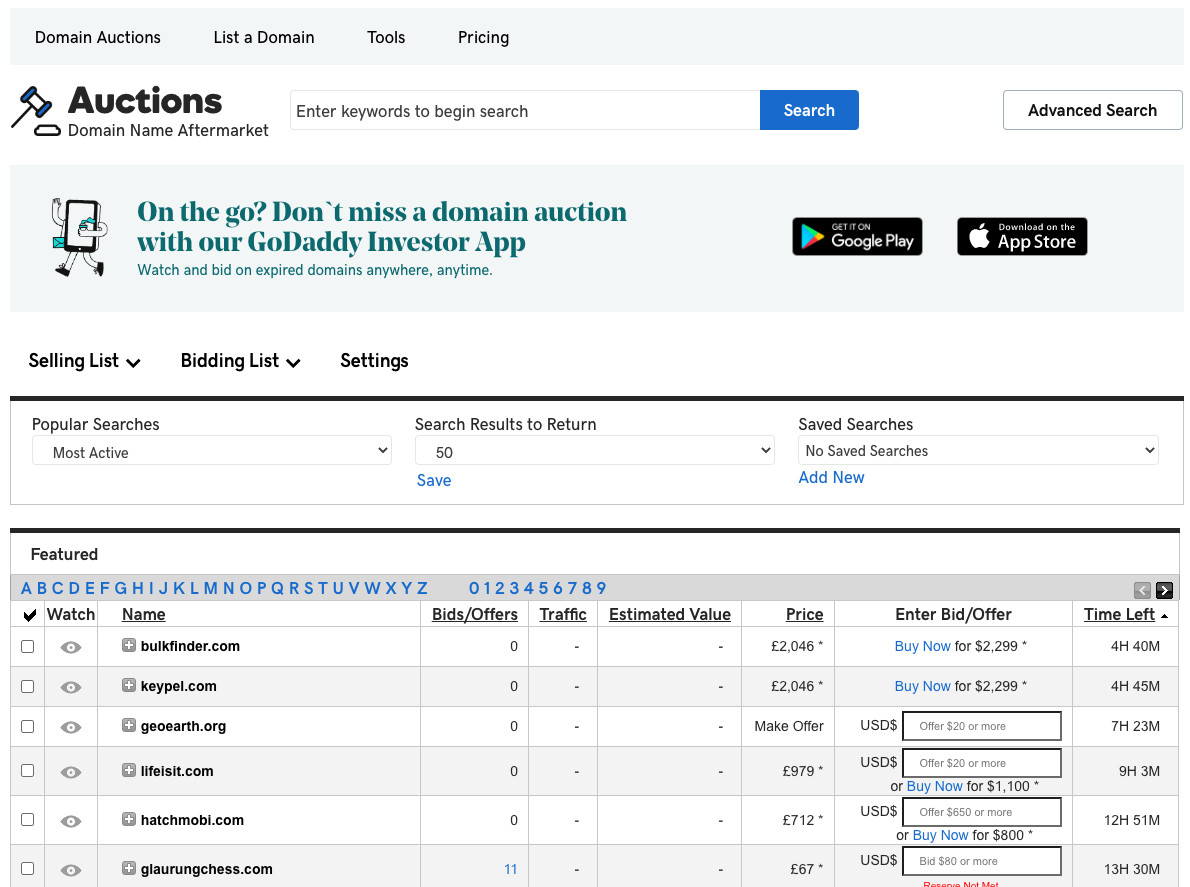 It's important to note that GoDaddy Auctions does not provide SEO stats on its domains. You won't find the domain age, DR, number of backlinks, or similar metrics listed alongside the domains, so you will need to manually check the ones that seem interesting using a tool such as SEMRush or Ahrefs.
Some of the domains have a Buy It Now price, where you can choose to purchase a domain name for a fixed fee set by the seller, while others are auction domains where you will need to bid against other interested buyers.
GoDaddy Auctions uses a proxy bidding system. This involves submitting your highest bid for a domain and allowing the system to automatically increase your bid in increments, up to your maximum, whenever someone outbids you. If someone bids above your maximum, you will need to manually bid again if you want to remain in the auction.
You will need to register to bid on domains, and it's not free. However, the subscription fee is very low at just $5 per year.
The domains available via GoDaddy Auctions are not all aged domains. In fact, the majority of domains listed have no or very few backlinks, which can make it challenging to find quality domains among the many thousands available.
It's also becoming more difficult to buy good domains that are reasonably priced. This is partly because aged domain marketplaces are actively buying the best domains as soon as they become available.
When you bid at GoDaddy Auctions, you are competing with the domain marketplaces, as well as domain investors – and even with bots set up to place bids – not just with other niche website builders.
If you do succeed in finding a quality aged domain on GoDaddy Auctions, and you are the winning bidder, then there is a good chance that you will pay significantly less for the domain than you would have through a marketplace. However, this is not easy to do, and you will need to spend many hours browsing domains and performing careful due diligence.
ExpiredDomains.net
ExpiredDomains.net is a free online tool that allows you to search through thousands of deleted domains (domains that expired, nobody bought them, and they have become available to register again) and domains from various domain auction sites all in one place.
The two major benefits of using ExpiredDomains.net are that you can browse domains from multiple sources in one place and – unlike GoDaddy Auctions – the tool shows some SEO metrics, such as number of backlinks.
It's important to create an account in order to use all the features of ExpiredDomains.net features and access all the available data.
Once your free account is created, you'll be able to filter all of the available domains and only show the stats that matter most to you.
One way to filter out the least valuable domains is to show only domains that have received bids. This is a quick way to have other people do work for you, as if a domain has value, someone else will almost certainly bid on that domain. Therefore, by filtering only to show domains with bids, you are effectively filtering only to show the domains that some people believe have value.
While ExpiredDomains.net offers some SEO metrics, it is limited and you will want to use a tool such as Ahrefs or SEMRush to dive deeper into a domain before you make the decision to purchase.
Other Tools to Help Find Aged Domains
If you feel that you need more features than ExpiredDomains.net offers for free, you may want to consider using a paid service, such as Spamzilla.io or DomCop.
Spamzilla.io costs $37 per month, while DomCop is $64 per month. Both tools also offer discounted annual subscription plans.
Spamzilla sells itself on the offer of spam-free domains. They point out that a risk of buying expired domains is that the domain could previously have been used for spam and, if it has, those spammy backlinks and potential Google penalties could harm your website if you purchase and use that domain.

They give each domain a Spamzilla score, which they claim "allows you to easily filter domains that won't help your SEO", using metrics like domain age, archive.org history, redirects and backlink history.
Meanwhile, DomCop focuses on the scale of the inventory and information they offer. They claim to filter more than 200,000 expired domains every day to find the best domains and then give you access to more than 90 metrics to analyze those domains.
Only you can decide whether these tools are worth the cost. Both may be useful if you will be buying multiple domains over a long period and want the best possible tools to filter them effectively. However, if you're only buying one aged domain for a particular project, then they may not be worth the subscription fee.
---
Best Marketplaces To Find Aged Domains
Using an aged domain marketplace to find aged domains comes with the major benefit of someone else doing a lot of the work for you.
Aged domain marketplaces have dedicated teams who manually review expired domains, purchasing only the domains that meet their strict criteria and pass their quality checks. These domains are then sold on the marketplace.
So, rather than trying to find aged domains manually – like searching for a needle in a haystack – you can save time and be confident that the domains on offer are of reasonably high quality and free from spam or trademark issues.
The downside of using marketplaces is that they need to cover their costs and make a profit, so the domains they offer carry a premium price.
Below, we list some of the most popular aged domain marketplaces. Each has its own unique domain inventory, so you don't need to choose just one. If you are in the market for an aged domain, it is worth browsing all of these marketplaces and subscribing to their email newsletters.
Odys Global
Odys Global is a well-respected marketplace that offers manually selected aged domains with high-quality backlinks.
Odys is particularly good at offering brandable domains. They even suggest a logo for each domain and include this with your domain purchase.
Each domain listed on Odys has a profile page that explains the niche that the domain previously operated in, shows the highest DR websites linking to that domain, and suggests what the new owner might want to do with the domain in the future.
The marketplace usually has an inventory of around 500 domains, which is larger than some of the other options listed below, though still very much a manageable curated list.
SerpDomains
Serp.Domains has a small inventory of fewer than 100 domains, though this inventory is updated weekly.
The SEO metrics on offer include domain age, whether the domain is indexed by Google, Domain Authority, and the number of referring domains and backlinks.
Unlike some other aged domain marketplaces, SerpDomains offers live chat support that includes pre-purchase advice, should you need it.
SerpNames
SerpNames.com also has a relatively small inventory of around 200 aged domains.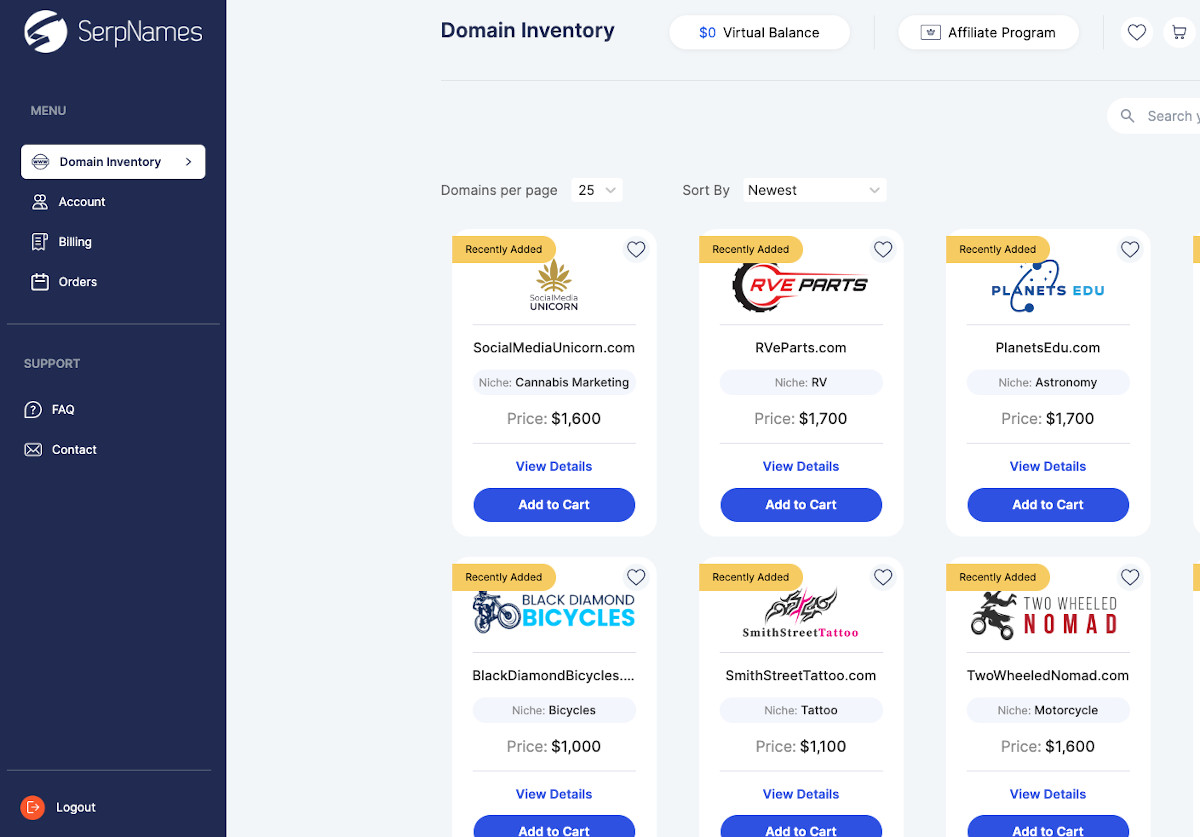 The marketplace offers limited SEO metrics: DR, number of referring domains, and domain age. You will therefore need to use a tool such as Ahrefs to gain a better understanding of the domain's backlink profile.
One selling point of using SerpNames is that they offer "a dedicated developer" to help you set up your domain and answer your post-purchase questions.
Domain Coasters
DomainCoasters.com adds around 500 newly expired domains to its inventory each month. Available SEO stats include domain age, domain authority, and referring domains.
Like other marketplaces, their team undertakes thorough due diligence on the aged domain, including checking the backlinks of a domain, ensuring the domain is spam-free and checking that the domain has been used consistently in one niche throughout its history.
Unusually, Domain Coasters split their marketplace domains into "budget" and "premium" domains.
They describe budget domains as "suitable for private blog networks (PBNs), 301 and money sites" and premium domains as "super powerful with high authority backlinks."
Another unique aspect of Domain Coasters is that each user is limited to revealing up to 20 domain names per day. Even though you can see several hundred domains listed on the marketplace, each domain name is partially hidden by asterisks until you choose to reveal it.
This is an obvious barrier if you are looking to browse many domains quickly, though Domain Coasters claim the process is in place "to ensure the domain names are private and restricted from the public."
---
The Right Approach For You
The approach you use to find aged domains will depend on your unique circumstances and may involve trial and error to find a system that works well for you.
If you have plenty of time but your budget is limited, then you may choose to search expired domain listings. This will involve working out a set of criteria to filter thousands of domains and narrow your search down to a shortlist, which you can examine in more detail using tools such as Ahrefs.
If budget isn't an issue, but you are short on time, you may choose to go straight to an aged domain marketplace. You'll pay a premium for the domain name, but you will save a lot of time and de-risk your purchase thanks to the marketplaces doing much of the work to find aged domains and perform due diligence for you.
And, of course, many people keep their options open, setting up accounts with various marketplaces and subscribing to their newsletters, but spending time searching expired domain listings too.
There isn't one "best" way to find aged domains, so the choice is yours.