When making any significant purchase, it's important to know what to look for and to properly inspect your potential acquisition. You wouldn't buy a car without knowing its service history, and the same is true when it comes to performing due diligence on aged domains.
In this guide, we explain what to look for in an aged domain and outline our six-step due diligence framework. Following these steps will allow you to find high-quality aged domains and avoid domains that could harm your SEO or waste your money.
---
8 Good Attributes of an Aged Domain
To analyze aged domains and separate good aged domains from bad ones, you first need to understand what positives you should look for and what warning signs you should avoid.
The following are the eight key criteria that we use to identify a top-quality aged domain.
1. Unobtainable backlinks
An aged domain gets its authority from its backlinks, which should be from highly reputable, authoritative sites relevant to your own website's topic. The point of buying an aged domain is to pass this authority on to your website.
An aged domain should therefore come with backlinks that you would otherwise be unable to obtain. For example, links from global news websites, such as CNN, or leading well-respected sites in your niche.
If an aged domain only has backlinks from sites you could easily get a link from, then there is no point in purchasing the aged domain. You might as well save the money, buy a fresh domain, and build the links yourself.
An aged domain is only worth buying if it comes with backlinks that are otherwise unobtainable.
2. Diverse referring domains
A link from one or two high DR websites is nice to have, but it doesn't justify the purchase of an expensive aged domain.
Even if there are many links, if they're all from the same site, that isn't what you should be looking for in an aged domain.
For an aged domain to be good value and offer real SEO benefits, it needs to have backlinks from many high DR referring domains.
There is no fixed number of referring domains needed to be considered a good aged domain. It's all about weighing up the cost of the domain versus the potential benefit. A low-cost aged domain may have a few dozen quality referring domains, while a premium aged domain could have hundreds of excellent referring domains or even more.
3. No spammy links
Obviously, you don't want any aged domain you direct to your website to have a history of being used by spammers. The negative effects of spam links could seriously harm your site.
You should therefore avoid any domains that have lots of links from TLDs often used for spamming, such as .cn and .ru, as well as aged domains with links from gambling, drug, or adult websites.
4. No long periods offline
A good aged domain will have a history spanning several years with no long periods offline.
Therefore, before purchasing an aged domain, you need to understand when the domain was first registered, how long the website it points to has been online, and identify any gaps in the domain or website history that suggest the domain was dropped.
5. Consistent history & topical relevancy
As well as wanting an aged domain to have been consistently online for several years, you also want the domain to have been used on a website that has been consistent in its topic throughout its history and for that topic to be closely related to your website.
You should never redirect an unrelated aged domain to a website in a different niche. No matter how good the backlinks to the aged domain are, you are risking harming your site if the niche of the aged domain and the niche of your website do not match.
6. Uses a popular TLD
Though an aged domain is mostly about its backlinks, we advise buying a brandable domain name wherever possible.
For this reason, a well-known and widely used TLD – preferably .com – is a better choice than more obscure options.
7. No registered trademarks
Aged domains often have a history of being owned by businesses, and these companies are quite likely to have registered trademarks that relate to the domain.
Unfortunately, even if the domain has expired and is available for purchase, an active trademark could still be in place.
To avoid legal problems, you should ensure that your aged domain does not violate any trademarks.
8. Google indexed
The final attribute of a top-quality aged domain is not strictly essential, but it is a big bonus.
Ideally, pages from the website of the aged domain you are buying should be indexed by Google.
Having pages in the Google index shows that the site has not been penalized and suggests that new content may be indexed more quickly.
---
Aged Domain Due Diligence in 6 Steps
Once you know what to look for in an aged domain, you need to know how to inspect the domain to determine whether it has the right attributes.
The following six-step framework will enable you to analyze aged domains, identify quality, uncover red flags, and remove much of the risk from your aged domain purchases.
1. Domain & website age
The first step in vetting an aged domain is to verify the domain's age and the age of the website that appears on that domain.
To check the domain age, go to who.is, enter the domain, and check the 'registered on' date. This tells you the age of the domain.
Next, go to Archive.org – also known as The Wayback Machine – and enter the domain name. You will see a timeline with black bars signifying dates when archive.org took a snapshot of the website. Looking at this timeline and finding the earliest snapshot will tell you how old the website is.
If the domain registration date is more recent than the first website snapshot, then the domain name was likely dropped at some point. It is, therefore, an expired rather than an aged domain
This isn't necessarily a problem, as the domain still has all of its backlinks. However, it is preferable to see that a domain has never been dropped.
If the domain registration date is earlier than the first website snapshot, then the domain is a safer option, as it is definitely an aged domain. The domain was registered, a site was created on that domain, and the domain has not been dropped since then.
2. Website history
By definition, an aged domain is a domain that has previously been used. There will be a history of a website existing on that domain, and before you decide to purchase the domain, you should check that history carefully.
The aim is to understand what content has been on the website throughout its history. Has that content been consistently about one topic? Or has the content on the domain undergone any significant changes over the years?
This isn't about the appearance of the site. It's perfectly fine for a website to have been redesigned or restructured by its previous owner. This is about the content of the domain being consistent.
For example, a website about dog baskets should always have been about dog baskets. There should not be a period in its history when it suddenly changed to be about a dog walking service or, even worse, something entirely unrelated like a gambling website.
To check this, we'll use Archive.org again.
This time, don't just look at the earliest snapshot, but progressively work your way through many snapshots of the website. You may even be able to check all of them, depending on how many there are and whether you have time.
Even if you can't see the website design, you should be able to read the website's content at different points in time and confirm that it has consistently been about the same topic.
3. Topical relevancy
Once you have browsed the website's history at archive.org, you need to consider whether the topic of the aged domain is a close fit for your website. This is essential regardless of whether you plan to build a brand new website on the aged domain or point the domain at an existing site.
The closer the aged domain matches the topic of your website, the better.
It's important to be honest with yourself and carefully assess the content of the previous website in comparison to the content of your website, making sure they are a genuine match.
This goes deeper than just thinking about broad niches like travel, tech or pets. Being in the same broad niche is not close enough. For instance, if you see an aged domain about iPads and you have a website about smartwatches, these do not qualify as a good match just because they are both about tech.
You want to see as close a topical match as possible. So for your smartwatch website, you want an aged domain with a history of content about smartwatches.
4. Backlink quality
The biggest asset of an aged domain is its backlink profile and the authority this gives to the domain. So, if you're thinking of purchasing an aged domain, you need to check its backlinks carefully.
To do this, you will need a tool such as Ahrefs or SEMRush. These tools can produce reports that show all of a domain's current backlinks, allowing you to look for high-quality links and low-quality links and assess the overall quality of the domain.
First, locate the backlink report, then sort by DR to see the highest DR domains that point to the aged domain.
You then need to ask yourself the following questions. For the aged domain to be worth purchasing, the answer to all of these questions should be yes.
Does the domain have links from lots of high-authority sites?
Are these links from sites that are relevant to your niche and the topic of the aged domain?
Are there links from high-traffic websites?
Are these links unobtainable, so it makes sense to buy the aged domain rather than build similar links yourself on a fresh domain?
Is the anchor text varied? And is the anchor text relevant to the page it links to?
Next, you should look for red flags in the domain's backlink profile. The answer to all of the following questions should be no.
Does the domain have links from TLDs often used for spam, such as .cn or .ru?
Are there any adult website links or casino links?
Are there any links with anchor text that looks spammy and irrelevant to the topic of the aged domain?
Usually, if a domain has been spammed, it will be obvious at a glance. Spammers usually build large numbers of links, so – in most cases – dozens or hundreds of spammy links will completely dominate the domain's backlink profile and be easy to spot.
5. Trademark check
Buying a domain that relates to a registered trademark is an easy mistake to make – and a potentially costly error.
Even if an aged domain is up for sale, and its previous owner may have decided not to renew it, there could still be active registered trademarks associated with that domain name.
Before purchasing an aged domain, you should always search Google for words or combinations of words that appear in the domain and see whether anything comes up that looks like a brand name or could be a registered trademark.
You should also search the USPTO database, entering words from your domain name in various combinations.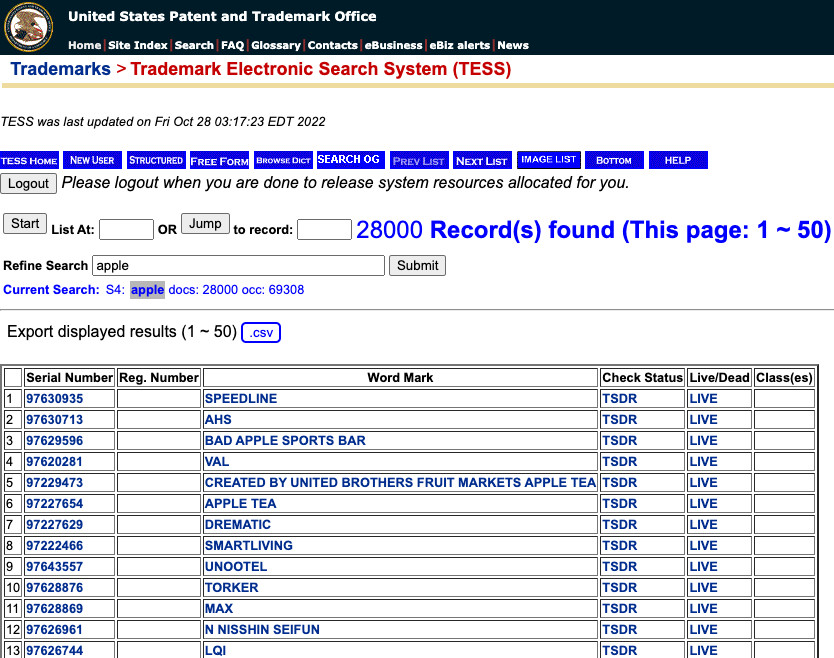 If no results come up, then there are no trademarks that use those words registered in the United States.
You can also check trademarks in other countries. For example, through the gov.uk website in the United Kingdom.
If your search does find existing trademarks, you will need to look at the results and consider whether the aged domain is potentially a violation of that trademark. If in doubt, we recommend not buying the domain or seeking legal advice, as it is not worth taking the risk of a trademark violation.
6. Indexed pages
Though not essential, it is encouraging to find that an aged domain has pages indexed in Google.
Seeing indexed pages means Google has not penalized the domain. And because Google has already indexed pages on the domain, future pages that you add may be indexed more quickly
To check whether an aged domain has indexed pages, go to Google and search for site: followed by the aged domain. For example, site:apple.com.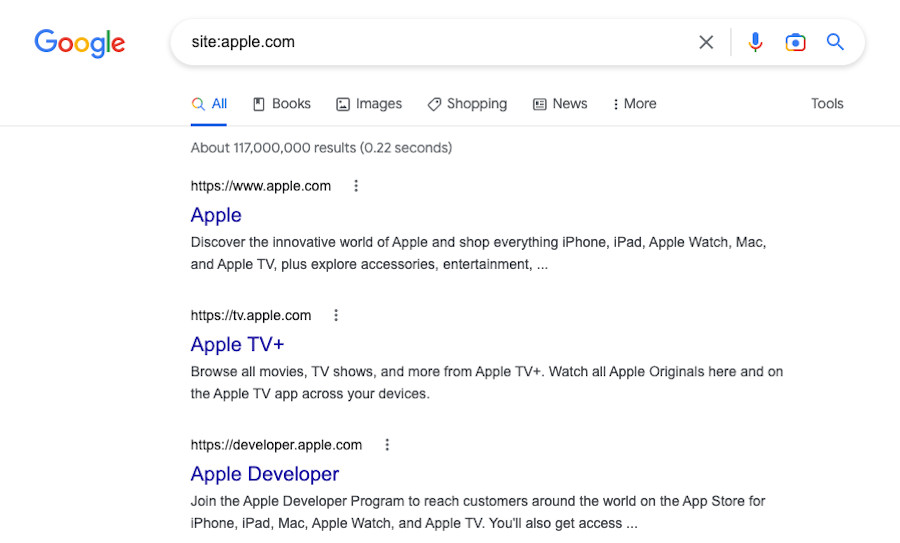 If there are pages in the Google index, they will be shown in the search results.
If there are no pages in the Google index for that domain, then Google will return the result "Your search did not match any documents".
Again, not having indexed pages is not a red flag or a deal-breaker. It is absolutely fine to buy an aged domain that is not in the Google index. However, it's a bonus if there are indexed pages, and an aged domain with indexed pages is certainly a less risky purchase.
---
Never skip due diligence on aged domains
If you find an aged domain that you really like and that has some good backlinks, it can be tempting to dive straight in and purchase it before anybody else does. However, this over-enthusiasm can be extremely costly if you later discover that the domain has a history of spam, is penalized by Google, violates a trademark, or comes with other problems.
Time spent checking the age of the domain and website, reviewing its history and topical relevancy, and confirming it does not violate trademarks, could be the difference between a successful purchase and one that harms your site and wastes thousands of dollars.
For this reason, it's crucial that you do proper due diligence. That means always following our six steps to vet an aged domain before you make a purchase or place a bid.